Domino uses Keycloak, an enterprise-grade open source authentication service to manage users and logins. Keycloak runs in a pod in the Domino Platform. There are three modes you can use for identity management in Domino:
Local usernames and passwords

Identity federation to LDAP / AD

Identity brokering to a SAML provider for SSO
You can access Keycloak on any Domino instance at:
https://<domino-domain>/auth/
The trailing / in the URL is required.
To log in as the default keycloak administrator user, you must have kubectl access to the cluster to retrieve the password from a Kubernetes secret called keycloak-http.
Run kubectl -n <domino-platform-namespace> get secret keycloak-http -o yaml to fetch the contents of the secret. The output must look like the following:

apiVersion

:

 v1


data

:


  

password

:

 <encrypted

-

password

>




kind

:

 Secret


metadata

:


  

creationTimestamp

:

 

2019-09-09T21:23:15Z


  

labels

:


    

app.kubernetes.io/instance

:

 keycloak
    

app.kubernetes.io/managed-by

:

 Tiller
    

app.kubernetes.io/name

:

 keycloak
    

helm.sh/chart

:

 keycloak

-

4.14.1

-

0.10.2
  

name

:

 keycloak

-

http
  

namespace

:

 domino
  

resourceVersion

:

 

"6746"


  

selfLink

:

 /api/v1/namespaces/domino/secrets/keycloak

-

http
  

uid

:

 09009f96

-

d348

-

11e9

-

9ea1

-

0aa417381fd6


type

:

 Opaque

Decrypt the password by running echo '<encrypted-password' | base64 --decode.

Use this password to log in to the Keycloak UI as the keycloak administrator user in the master realm. Read the official Keycloak documentation about the master realm to learn more.

Keycloak will be configured automatically by Domino with a realm named DominoRealm that will be used for Domino authentication. When reviewing or changing setting for Domino authentication, ensure that you have DominoRealm selected.
The simplest option for authentication to Domino is to use local usernames and passwords. In this case all user information is stored by Keycloak in the Postgres database, and there is no federation or brokering to other identity providers.
Configuration
In this mode the key settings are on the Login tab of the DominoRealm settings page.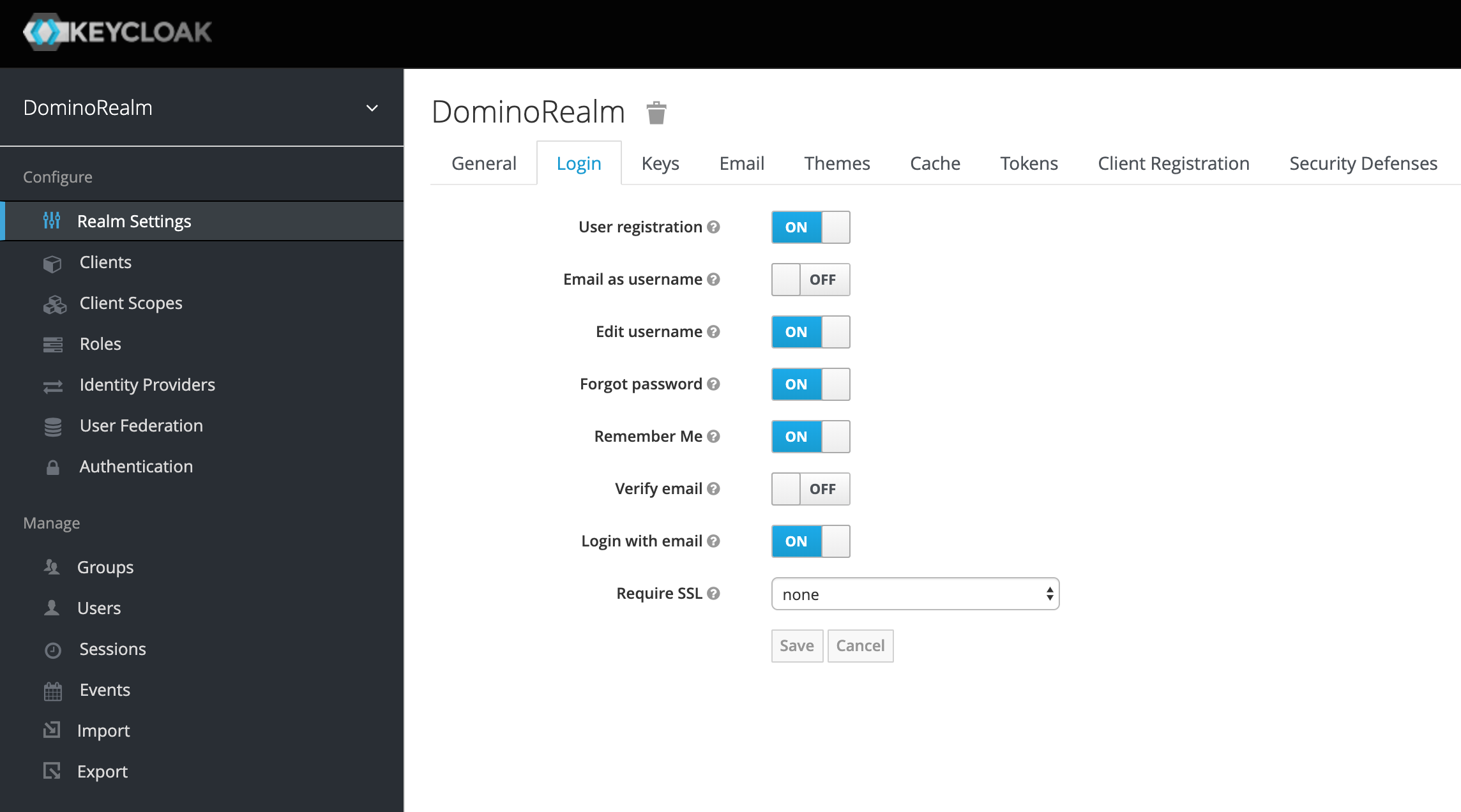 Email as username is not supported because that would automatically use email as username and Domino does not support that as a valid username. If you want to use the Verify Email option, an SMTP connection must be configured in the Email tab.
Use Keycloak to connect to an LDAP / AD identity provider and cache user information.
Add a provider
This can be configured in the User Federation menu. Go to Add provider…​ > ldap.
When adding a provider according to those docs, if you are migrating from an older Domino, you can make use of your existing ldap.conf file on the Domino frontend to see exactly what inputs you must use for the provider settings. Some key pieces of information are:
| ldap.conf name | Keycloak user federation setting name |
| --- | --- |
| | |
| | |
| | |
Group and Role synchronization can be configured with steps similar to those listed for SSO, except that user attributes must first be imported to Keycloak through an LDAP mapper. After that is done, and the users in Keycloak have the appropriate user attributes specifying group membership or role, the remaining setup (to map from Keycloak to Domino) will follow the steps in the role synchronization related to Client Mappers.
Configure mappers
In addition to configuring the LDAP connection you might also have to review the LDAP mappers associated with the LDAP connection you have configured. Some mappers will be configured by based on the LDAP vendor that was chosen, but you might have to modify these based on the specific configuration of your provider. You must make sure that there are mappers for the following attributes:
username

firstName

lastName

email
For more details, read the official Keycloak documentation about LDAP mappers.