NVIDIA DGX systems can run Domino workloads if they are added to your Kubernetes cluster as compute (worker) nodes. This topic covers how to setup and add DGXes to Domino.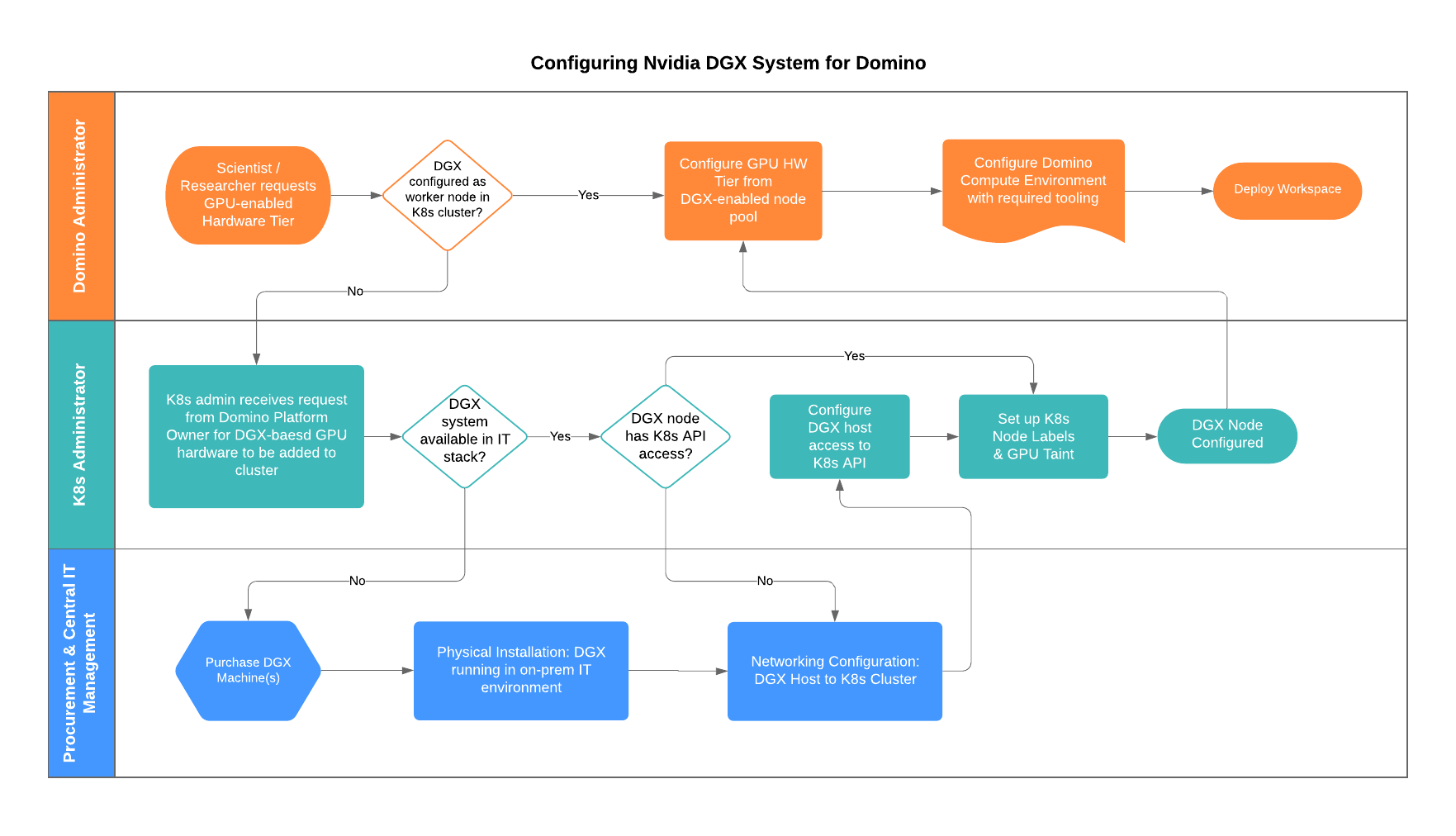 The flow chart begins from the top left, with a Domino end user requesting a GPU tier.
If a DGX is already configured for use in Domino's Compute Grid, the Domino platform administrator can define a GPU-enabled Hardware Tier from within the Admin console.
The middle lane of the flow chart outlines the steps required to integrate a provisioned DGX system as a node in the Kubernetes cluster that is hosting Domino, and subsequently configure that node as a GPU-enabled component of Domino's compute grid.
The bottom swim lane outlines that, to leverage a Nvidia DGX system with Domino, it must be purchased and provisioned into the target infrastructure stack hosting Domino.
Nvidia DGX systems can be purchased through Nvidia's Partner Network. Install the DGX system in a hosting environment with network access to additional host & storage infrastructure required to host Domino.
Build Node

Domino recommends you

do not

use a DGX GPU as a build node for environments. Instead, opt for a CPU resource as part of your overall Domino architecture.

Splitting GPUs per Tier

Domino recommends providing several GPU tiers with different numbers of GPUs in each tier for example, 1, 2, 4, and 8 GPU hardware tiers as different training jobs can take use of single or parallel GPU usage and consuming a whole DGX box for one workload might not be feasible in your environment.

Governance

After splitting up hardware tiers, access can be

global or, alternatively,

limited to specific organizations. Domino recommends ensuring that the right organizations have GPU Hardware Tier access --or are restricted-- for the purpose of ensuring availability for critical work, and/or to prevent the unauthorized use of GPU tiers.