The AI Project Hub lets you quickly build AI applications from prebuilt solutions curated from the best of open source that are enterprise-ready. The AI Project Hub lets you and your team discover and reuse templates for several common ML use cases and industry-specific patterns while providing access to best practices and "art of the possible" inspiration with Domino.
Domino's AI Project Hub features cutting-edge Enterprise Templates from Domino and our partners, providing access to the latest data science innovations.
You also have the freedom to design Custom Templates tailored to your organization's best practices. These bespoke templates remain private and aren't uploaded to Domino.
The AI Project Hub provides the following benefits:
Increase productivity with ready-made templates.

Stay updated with the latest innovations in data science.

Establish and maintain internal standards.
In Domino, go to Projects > Templates tab to browse the AI Project Hub. Search and filter on Templates by machine learning tasks, industry verticals, license, data format and owner.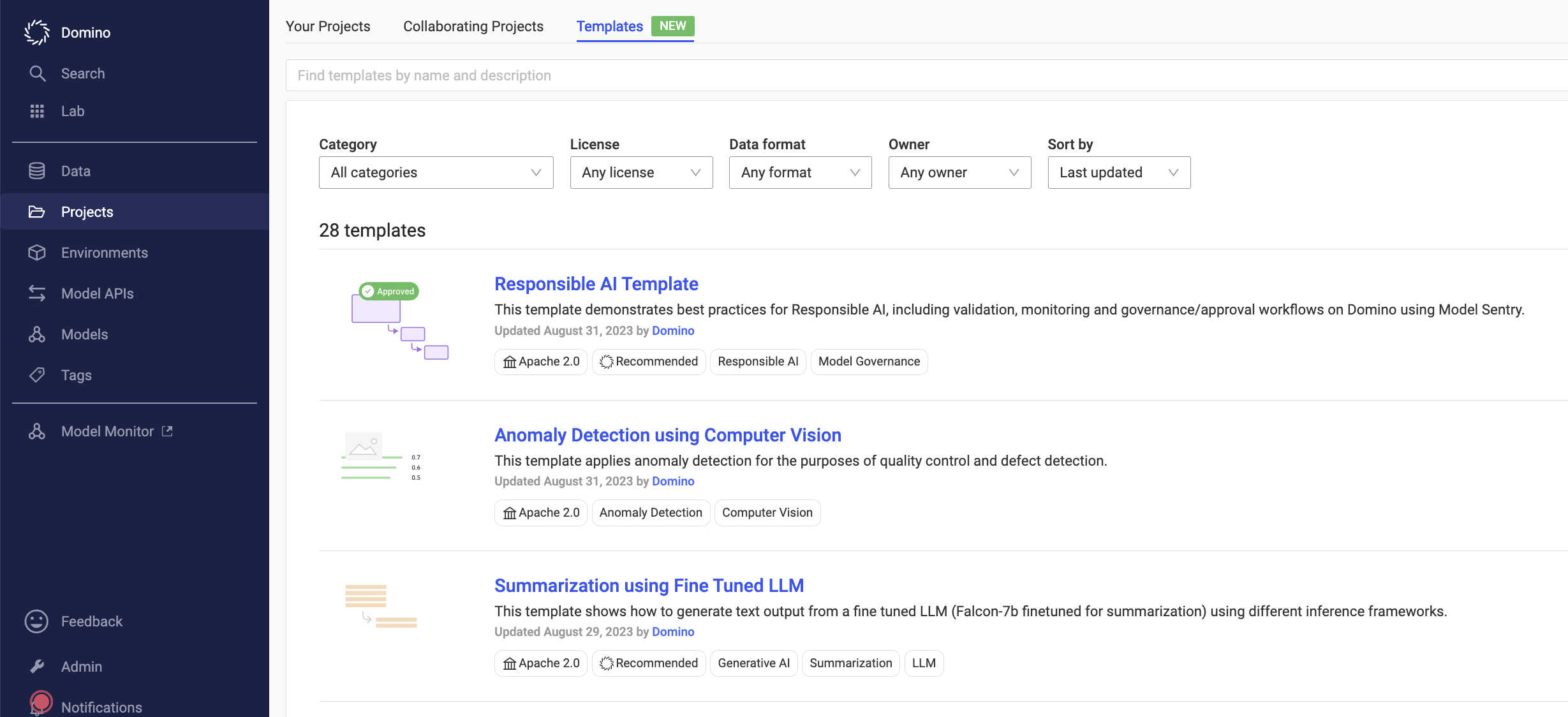 Click the Create Project button to set up your own Project using the template, some Templates may require additional setup, which can be found in the Template details. Domino Templates contain everything you need to set up the Domino Project including code (in a Git repository), goals, model details, and requirements. You can either try it out as-is or customize it for your own use case.
Deployment-specific Custom Templates
Admins can add organization-specific Custom Templates without contributing them back to the Domino AI Project Hub. To do this, configure the com.cerebro.domino.workbench.project.projectTemplateHubRaw option in the Central Configuration.
The AI Project Hub only supports GitHub and GitLab as Git service providers.

For GitHub repositories, the code-containing repository for the template must be set up as a template repository.

For GitHub repositories, you must use Classic Personal Access Tokens for credentials.

A maximum of 100 deployment-specific Templates can be specified using the Central Configuration option com.cerebro.domino.workbench.project.projectTemplateHubRaw.

Templates made with Project Templates feature aren't included in the AI Project Hub and exist separately from the AI Project Hub Templates.